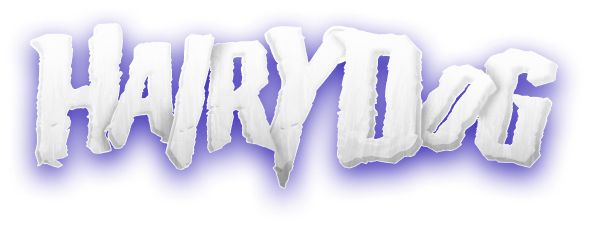 How do I get to The Hairy Dog?
The Hairy Dog is located in the heart of Derby city centre and only a ten-minute drive from the train station on Becket Street, DE1 1HT.
Are there places to eat near by?
The Hairy Dog itself has a hot dog van on site that provides food for all diet types such as vegan, vegetarian, carnivorous etc. However, if that doesn't take your fancy we are surrounded by an abundance of restaurants, cafes, and eateries. Meaning there is something for absolutely everyone at only a stone's throw away.
How do I buy tickets for a show?
Our extensive gig guide that can be found on both this website and our Facebook page all list each show individually. These listings all come with their own individual link that when followed will allow you to make a purchase.


Is there an age restriction?
Unfortunately, yes – Most of our shows are 16+ when accompanied with an 18+ (I.D is required). These shows have a strict curfew of midnight, and anyone under the age of 18 will be asked to make their way to the exit. We host a lot of club nights and these are strictly 18+ only. At point of purchase all shows will have exactly what age restriction they are, so please pay extra attention when ordering your tickets as refunds will not be granted in this circumstance.
Can I buy a ticket on the door?
Yes! Tickets can be purchased on the door via both cash and card payment. However, advanced buying is always encouraged as not only can we not grantee that the show will not sell out before door time, but advanced sales are something that really helps us grass roots venues survive!
What should I do if my ticket is damaged/lost/stolen?
We operate through electronic tickets but in the likely hood you have lost your ticket – please contact the source in which you made the purchase.
My tickets haven't arrived yet – what should I do?
If the show is still months in advance, don't panic, this is normal and no need for concern. If there is less than a week before the show then please contact the ticket provider in which you acquired it from. They will then either send out a new ticket, or help to contact the venue so we can put you on a collections list on the night of the show.
Do you provide companion tickets?
We do! Please contact info@hairydogvenue.co.uk and we can go from there in helping you secure a place at the show.
How do I go about getting a refund?
This is not something the venue itself can help with. You will need to contact your ticket provider where you made the initial purchase to obtain a refund.
How accessible are you?
The entire venue is wheelchair friendly and has a multitude of ramps and wide spaces to help with access to each section of the venue, and on top if that staff are always happy to help guide you to where you need to be.
Will I be able to skip the queue?
If you have difficulty standing for long periods of time and queuing is something you are unable to do please let a member of staff know upon you're arrival and we will do our best to accommodate this and get you in to the venue as quickly and safely as possible.
Do you have disabled toilets?
We have one very spacious disabled toilet located in the main bar area directly across from the bar itself.
Do you allow assistance dogs?
We do – however given the nature of the venue, we would discourage customers from bringing assistance dogs with them during very busy shows. It's extremely compact and very loud.


Do you have seating?
We have seating throughout the games room, main bar area, and surrounding our large smoking area. The venue itself does have a few tables and chairs scattered around the edges. However, in the event of a sell out show, for the safety of others, we often remove all furniture. If seating is something you need in order to be able to attend a show please contact info@hairydogvenue.co.uk and we will do out very best to try and accommodate you.
How can I access visual and audio information?
Please contact info@hairydogvenue.co.uk and we will provide you with any information you need.


Is there on street car parking?
There is a small amount of on street parking available including disabled bays, however, the street parking is paid (£3.60) 2 hour short stay between 8am and 8pm Monday – Saturday, and 2 hour short stay between 10am and 4pm on a Sunday. Parking on the street is free outside these hours
Where is the closest car park?
There is a large open car park on Abbey Street (DE22 3QF) with full camera surveillance, and a Parksafe Multi-Story Car Park on Bold Lane (DE1 3NT), both of which are a 5-minute walk from the venue.
What are the closest hotels?
There are a number of Hotels within a 10-minute walk of the venue, including the Leonardo Hotel, Premier Inn Derby City Centre and Holiday Inn Derby Riverlights, as well as a large number of apartments and B&B's in closer proximity.


GENERAL INFORMATION + OFTEN ASKED QUESTIONS
Do I need I.D in order to enter the venue?
In short yes. You may be asked by our security to provide proof of age and if you cannot provide this then you may not be granted access to the show.


Is there any reason why I wouldn't be let into the venue?
As we infamously like to say – Just don't be a c**t!
We reserve the right to refuse admission or service without reason, so don't appear to be overly drunk or behave inappropriately, or we may refuse entry without refund.
Will there be strobe lighting or pyrotechnics in use?
The majority of our shows may use these. If you have any major concerns or questions on a particular show then please get in touch via info@hairydogvenue.co.uk and we will be happy to assist the best we can.
Do you have a curfew?
Most shows (excluding club nights) will finish by 12pm.
Our main bar area and games room however are open until 3.00am, with last entry being at 2.30am, and last orders being called at 2.45am.


Where can I make a complaint?
Please contact us as soon as possible with as much information as you can provide via info@hairydogvenue.co.uk and we will do our best to resolve the situation.
Do you have a dress code?
We implement a 'no tracksuits – including jogging bottoms, and no football shirts' dress code. If you have a health issue which requires you wear tracksuit bottoms, please get in touch so we can inform our security before your arrival.


What are your opening hours?
Monday through Thursday we are open from 5pm – 3am and Saturday and Sundays 12pm – 3am.
*special events may call for us to open a little earlier and we are ALWAYS open from 12pm
© 2023 Copyright. The Hairy Dog | Powered By App4